News
Mouth Cancer Awareness Month November 2020
A self check for mouth cancer takes less than one minute and can save your life. Here's how you can check yourself at home:
We are now open for face to face dental care June 2020
To keep everyone safe we have adapted our procedures, here is our video on what to expect and our new Covid-19 secure patient journey:
Important information for our patients during the coronavirus (COVID-19) April 2020
Due to government guidelines and the current COVID situation, our practice doors are temporarily CLOSED to patients.
We are however still taking telephone calls to provide advice to patients with dental emergencies.
If you have a dental emergency please telephone the practice Monday to Friday 9am to 5pm. Outside of these hours please call NHS 111 for help and advice.
For the latest advice on Coronavirus visit http://www.nhs.uk/conditions/coronavirus-covid-19/
Mouth Cancer Awareness Month November 2019
Did you know, visiting a dentist could save your life!
All our patients undergo oral cancer screening as part of their dental examination. Your dentist will inspect not just your teeth but your entire mouth, tongue and cheeks, making visiting your dentist regularly vital to help early detection.
Be more Mouthaware and join us to spread the word! #bluelipselfie

National Smile Month 2018
National Smile Month is about sharing important messages about looking after our teeth, good oral health has so many benefits beyond our appearance, healthy teeth and gums prevents tooth loss and by keeping our teeth and gums healthy we are reducing our risk of certain cancers.
Lets celebrate National Smile Month with a Smiley Selfie!
World Oral Health Day 2018
During the month of March Shay created a board to promote world oral health day. The board included information, advice and fun facts on quitting smoking, promoting healthy eating, brushing twice daily and alcohol consumption.
July 2017
The Big Summer Brush Up July 2017
With the summer holidays approaching, children are more likely to ask for treats and snacks, we are hoping that our message will encourage healthier options.
We want to help children & adults understand the sugar content of the most popular drinks and snacks. Seeing the amount of sugar in food and drinks is more effective than reading about it on the packaging.
Our window has been transformed to display the amount of sugar contained in popular snacks and drinks, correct brushing technique and interesting teeth and oral hygiene facts aimed at the children.
Come along this summer and bring the children to see our display next time you are in town!

8thMarch 2017
No Smoking Day
National No Smoking Day is a day to raise awareness about the dangers of smoking and to support individuals who would like to quit. Throughout March our eye-catching display was in our window for patients and passers-by. It contained information on why, how and the benefits of stopping smoking, giving practical advice and details of local organisations that can help.
November 2016
Mouth Cancer Awareness Month
Staff and Dentists get involved in the Mouth Cancer Awareness campaign offering 'Walk in' FREE Mouth Cancer Screening to non-registered patients. 'If it helps just one person it's worthwhile'. Dawn Practice Manager Oak Dental Rochford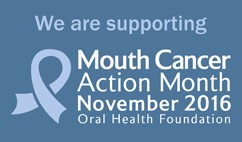 September 2016
Rochford Art Trail
To support the local community, each year we participate in the promotion of artwork for local artists by displaying their pieces in our practice window. This year we displayed the work of local Glass Artist Keith Gravesstock. His pieces proved very popular with staff and patients!

May 2016
Happy Birthday National Smile Month
This year National smile Month celebrated its 40th year and staff enjoyed promoting oral health messages to patients reinforcing the importance of good oral health in both children and adults.
Smile!
December 2015
Annual Patient Satisfaction Survey
Thank you to all our patients that took part in our Annual Patient Satisfaction Survey during December 2015. Your feedback is really important to us as it helps us to improve our service and we were very pleased with the results.
We found 99% of our patients would recommend us to others.
April 2015
Introducing NHS Family & Friends Test
From April 2015 patients are invited to give us their feedback by answering a simple question. Would you recommend us to friends & family?
We really appreciate your feedback and find your suggestions valuable. Please help us to help you by completing a response card which can be found in the patient waiting area along with the box to post them in.
21st September 2015
For the 'Bright Smiles, Bright Future' Campaign by Colgate, staff promoted healthy oral care habits among young patients and their families giving information about why dental check-ups are important for children, how to brush teeth properly and information about limiting sugary foods and encouraging healthy snacks. An information board was created to grab the attention of all ages, balloons and Dr Rabbit Smiley's, stickers were given to our young patients.
7th June 2015
National Smile Month (May 18th to June 18th 2016) @ Oak Dental Rochford Staff help raise awareness and promote National Smile Month